Oh my gosh, it's been so busy around here with one thing and another, but the holiday weekend has been fun so far! Friday night we went to see a fireworks show. There was a little chill in the air, but it was nothing a sweatshirt wouldn't take care of, and we were just thankful for no rain this year! The crowd was HUGE, and you could just feel the spirit, as we set our blanket and light refreshments on a blanket right smack in the middle of it all! It was a great show!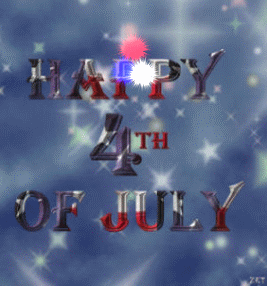 Then last night we saw
Eclipse
!! Of all
the movies
so far, I thought the first Twilight movie was o.k... I liked it, but maybe it was just a little slower-moving for my liking...
But now I can't decide if I liked the second movie or the third movie better!!! They were
both
great!!! I'm going to leave it at that, as I don't want to spoil it for anybody who is still planning to see it! All I'm going to say is that if I could go see it again tonight, I would!!.. tonight, and the next night, and the next night...!! I loved it!
As for our schedule today, we still don't have it mapped out exactly. We have been invited to two picnics, and of course they run at the same times. I don't know, just yet, if we'll have to choose between them, or if we can try to go to both.
In the meantime, as you can see, I have plans for serving dinner myself; but I have not yet determined
when
I can serve it, because of various schedules, commitments, and even the weather!
My apartment gets a little uncomfortable on the hottest of days, as I have no air conditioner this year... just fans! Our forecasters are warning we'll be riding a real heatwave for the next FIVE days; so, it wouldn't surprise me if we had to pack this all up, and throw it in bags and coolers, just to hopefully appreciate such a meal in a more comfortable picnic spot!
Anyways, I wanted to at least show the crochet elements of my holiday table. I've been busy with various things during the past couple of weeks, but I still managed to get a little crocheting in. The placemats you see, I made some time ago!
Most recently I made the Patriotic Round Potholder, at the center of the table, which I originally found
HERE
. Unfortunately, I can't seem to find it there now.. However, I
can
share where I found the pattern for the hot pad in front of it!..
You can find it
HERE
, at Crochet Soiree! Then, the pattern for the star coasters can be found
HERE
!
I picked up this cute little bear last year some time, at a garage sale! The shiny red metallic candlesticks were a gift from Dear Daughter, when she was young, that I use not only for the 4th, but for Christmas and Valentines Day too!
Finally, the plates are just a fun little somethin' I picked up from my local
Dollar General!
Plastic, but perfect for
my
purposes!
Well, wherever you are, and whatever you're doing, I hope you're enjoying this 4th of July holiday weekend, having fun, keeping safe, and keeping cool!